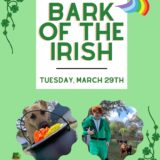 Wear green and bring yer gold to our Bark of the Irish event on Tuesday, March 29, to celebrate St. Patrick's Day!
During this special event your pups will be included in the activities "Finding the Pot O' Gold" and "Dance with the Leprechaun"
Perks Plus and Premium clients receive FREE access into the event. For the other pups, this event can be added onto daycare, lodging, and training for only $10. We hope you follow the rainbow and see us there!
RSVP today at 813-672-9663.