We choose small dogs for many of these reasons. Small dogs are simply easier. Easier to handle, master snugglers, less food, less poop, and overall easier to care for. Due to size, our responses to their behavior are typically very different from how we react to their larger cousins. We make excuses for them due to their size or previous life experiences. Picture your dog as a 65lb Doberman with every behavior that you see. Would that same behavior be acceptable to you?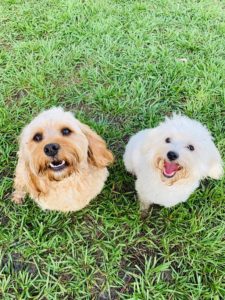 Our smallest companions need socialization and positive relationship building through training as much, if not more, than our large dog friend.
Small dogs can walk. As funny as this sounds, it is tremendously important for confidence building and proper socialization to teach your dog to walk on a leash or harness. Our smallest four-legged pups need opportunities to meet the world at their height as early as possible. Being smaller in stature does not make them less confident, but a lack of opportunity to explore their world will.  
Barking A LOT is not necessary (picture that Doberman). We want our littles to happily greet and look forward to making new friends (two-legged and four-legged). We definitely do not want our large dogs rolling their eyes and whispering '#smalldogissues' while tolerating the nuisance and rude barking from a full-frontal small dog assault. Fortunately, most large dogs will tolerate this behavior, but not all will respond well, and this can put your dog in a dangerous situation.
World of small bubbles. Rescuing your small dog by scooping them up and removing them from situations removes opportunity to learn, grow and build confidence. We place our small dogs in a bubble surrounded by our arms and create an unrealistic view of their world by carrying them too frequently. All dogs need to explore their worlds early in life to create positive social experiences.  
Finding a training program for you and your family is an important decision. Private training or small, group classes with positive, reward-based programs will give your little dog a great start in life by building a strong, positive relationship. Partnering with a pet care facility for properly supervised daycare helps build their confidence and allows them an opportunity to be away from you and explore their world independently. It will also give you peace of mind to know they are having a great playdate or vacation when you are away for the day or your own vacation.