---
Looking for something fun to do with your dog this weekend?  Don't forget to wear your Cabana Shirts.  Check In there, take a picture and share on your Facebook or Instagram page and we...
Read More
---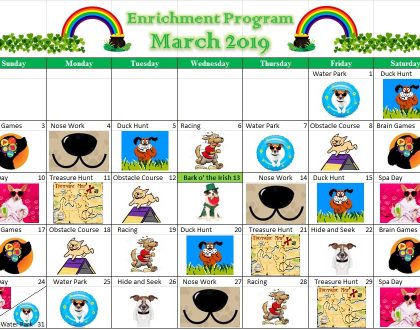 We have learned that one-size does not necessarily fit all when it comes to dog daycare. Some dogs can become tired, over stimulated and even bored when playing all day without adequate rest. Our...
Read More
---
Join us and meet some of our amazing four legged clients while we celebrate our 10 Year Anniversary.  We will be providing lunch. We will be offering tours and scheduling orientation days for new...
Read More
---
---
Welcome to Pawgwarts! Join us on April 17th for this month's event.  We are hosting a Harry Potter-themed party featuring photos from Azkaban Prison, a visit from the Sorting Hat, and a race...
Read More
---
Join us for our annual Easter dog egg hunt. March 31st or April 1st. Call to reserve your spot.
Read More
---