Summer is approaching quickly. We are all getting ready for some well-deserved time away from home. Opportunities to socialize, meet and play with friends, hiking the trails, soaking up some sun, a quick dip in the pool, a perfect combination of relaxation and fun…all for your dog of course. Our smallest pups need and deserve some time away too. It is sometimes hard to consider taking time away from our small four-legged family members. Preparing in advance will give you peace of mind and ease your anxiety, and your dogs.  
Why it may not be a good idea to bring your dog on vacations with you.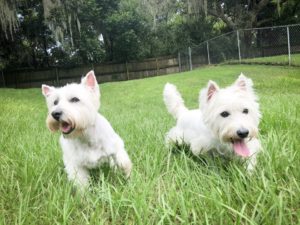 As a dog lover, I can appreciate the want to have our four-legged companions with us. We do not want to think about them being left behind. 
Although we are comforted by the thought that our presence reduces our dog's anxiety, I know that the choice to have them travel with us is not always in their best interest. I travel by plane frequently and see many stressed dogs in airports and on planes. Although some seem to be expert travelers, most are unsure, tense and stressed. 
While we have experience traveling and skills to overcome the abundance of sensory stimuli, our four-legged family members do not. Think of absorbing all the new sights, sounds and smells from 4" off the ground.
Traveling soon? See how we can help you and your dog.
Building a relationship with small dogs and their owners allows us to provide a stress-free and fun vacation experience for both. We empathize with the decision to have your dog and know the importance of creating a safe, loving environment for every guest. We have consistently brought peace of mind to pet parents leaving their small pup for the first, fifth, or tenth time.  
Fun Experts! What we get to do is have fun with your dog and keep them engaged with their favorite activity: playtimes, sunbathing, naps, or cuddle sessions. We even offer bed-time stories! Our team of pet care providers love their job and your dog. We have many dogs that run in the door and a few that do not want to leave…. picture them coming up to see you after a long vacation and then turning around to go back inside for more play.  

Behavioral Experts. If you have concerns about separation anxiety, we want to help. Our team assesses each guest's overall wellness, behaviorally and physically, every day. Dogs with special needs are frequently and consistently monitored by our entire team. Cuddle times one-on-one with a team member provides great comfort and relaxation.

Animal Care Experts. We perform daily health and wellness checks to assess food and water intake, look at their eyes, ears, coat and monitor their stool. Having a high team-to-dog ratio means your dog gets personalized attention by pet care experts.

Relationship Experts. We value and appreciate you as part of our Cabana Family. We are transparent with our communication about your dog. We want you and your dog to have the best experience. We have excellent partnerships with many local veterinarians who recommend us for our knowledge and impeccable care. We are available 365 with full activity hours and drop off and pick up times. Report cards can be sent to you daily or you can call any time.   
We are here to help. We know choosing the right pet care partner is an important decision. Our team of loving pet care professionals and expert dog trainers would love to meet you and your dog. We believe in building long-lasting partnerships with families and their dogs by providing a full-service pet care facility: overnight lodging, dog daycare, training and SPA services.