Socialization has become a frequently used word among dog lovers. There are two definitions:
The activity of mixing socially with others

The process of learning to behave in a way that is acceptable in society.
These definitions can be related to our canine companions as well. We unfortunately use this to determine if our dog is a 'good dog' or a 'bad dog' based on exactly these parameters. Here are some of the common questions we ask ourselves to determine the sociability of our dog: 
Can my dog play well with a dog or group of dogs?

Can my dog easily walk on a leash?

Can my dog politely greet another dog on leash?

Can my dog always have a quiet, low-key response to a doorbell or passing bike rider?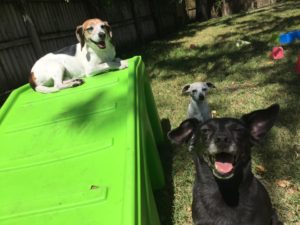 I am going to focus on the first question. At our pet care facility, we see almost 100 new dogs each month. Every dog we meet in our pet care facility starts with an orientation day. It is not a pass/fail for our facility. This full day begins well before their paws cross our threshold. We ask A LOT of questions. Our initial phone call, dog registration form, and multiple conversations with a new pet parent allow us an opportunity to gather and review as much information as possible before we even set eyes on a new guest. Our team of trainers or senior pet care specialists then take every piece of information provided and complete a behavioral assessment. This is a full day process that involves assessing a dog's comfort with our team, their enclosure, the new environment and other dogs.
At the end of the day, we take time to review everything we observed as experts with the new pet parent. The easiest conversation begins with 'your dog loves all dogs, can go in with as many dogs as they like, they come when called and have excellent manners.' This conversation is very rare. More often, we see the look of disappointment and confusion when we say that 'your dog was shy today and enjoys the company of our team more than other dogs' or 'your dog has too much energy and doesn't listen to the other dogs or us.' And we recognize the latter conversations are often heard as 'you have a bad dog.' Nothing could be further from the truth.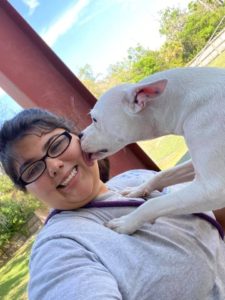 Dogs are as unique as us with sociability. Imagine being an introvert and being thrust into a room with 20 strangers. A human can cope but would not enjoy it. Yet, our expectation of our dog is to do exactly this. Genetics, life experiences, and lifestyle are a few things that have an influence on social skills. A dog not enjoying the company of other dogs or not being comfortable in a group of 14 friends, does not make them a 'bad dog'. As industry leaders, we recognize that each dog has specific needs that will make their stay with us comfortable. We offer a variety of specialized playtimes: one-on-one, small groups or larger groups. Our goal is to build a relationship with pet parents, their families and their dog through honest, transparent conversations that educate. Our pet care and dog training teams are here to provide a loving, safe, positive visit that is comfortable for every guest.
We have the most extensive hours of any local pet care facility offering lodging, training, daycare, and spa services 365 days a year. Canine Cabana's mission is to provide a safe, active, and healthy recreational environment that meets canine physical and behavioral needs while improving the quality of life for both dogs and the owners who love them. Call us today to schedule an orientation day! 813-672-9663