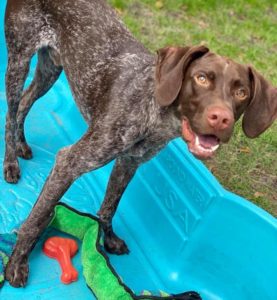 Like most small businesses, our pet care facility has been greatly impacted by the COVID-19 pandemic. Clients needing boarding dropped to zero during the lockdown. Fortunately, we quickly learned that many people decided that a quarantine would be a perfect opportunity to expand their furry family OR start a new one. Thus, the #pandemicpuppy was born. As professional pet care providers, we have a caring team of dog trainers and animal care specialists. We recognized quickly that the families of this generation of puppies were going to need much more education about socialization.  
Socialization is defined by the AVMA (American Veterinary Medical Association) as "the process of preparing a dog or cat to enjoy interactions and be comfortable with other animals, people, places and activities."
Pandemic puppies missed a critical window of socialization. Building proper social skills requires consistent, positive interactions during this very short window which occurs between 4 and 6 months of age. We started hearing more frequently that 'my dog is shy or my dog is afraid.' These are not uncommon behavioral concerns for dogs without real world experiences even outside of a pandemic. However, quarantine created a perfect storm of making a new puppy's world extremely small where everything is scary because they were never introduced to what normal life looks like. No friends visiting, no interactions on walks with people or dogs, and no outings. There have been no consistent, positive interactions with new 'animals, people, places and activities' to make your puppy's world safe and not scary.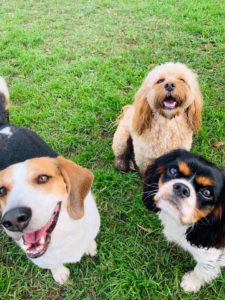 Building confidence with positive interactions is a great way to expand your puppy's world.
People: grab your puppies favorite treat, call a neighbor or friend and take a walk. Dogs communicate by giving and taking space with their bodies. Encourage him/her to say hello to your friend and new people. Give him/her plenty of verbal and treat praise when you see your puppy overcoming him/her hesitation.  

Places: a 6' leash allows your puppy to explore. Visiting dog-friendly places with new sounds, sights and smells decrease their sensitivity to new surroundings. 

Animals:  safe, healthy, and positive interactions with other social dogs can boost confidence. Always ask another dog owner if their dog is friendly before encouraging any interaction. Dog parks are not recommended for any dog with social insecurities.   

Activities: training can help build a positive, lifelong relationship with your dog. Basic manners, agility, enrichment activities, tricks and games mentally stimulate your puppy.   
Building a relationship with a team of pet care professionals now will help you, your family and your new furry family member have the best success. Our daycare and training services can help tremendously with your shy pandemic puppy. We are here to help! Call us and learn more 813-672-9663!